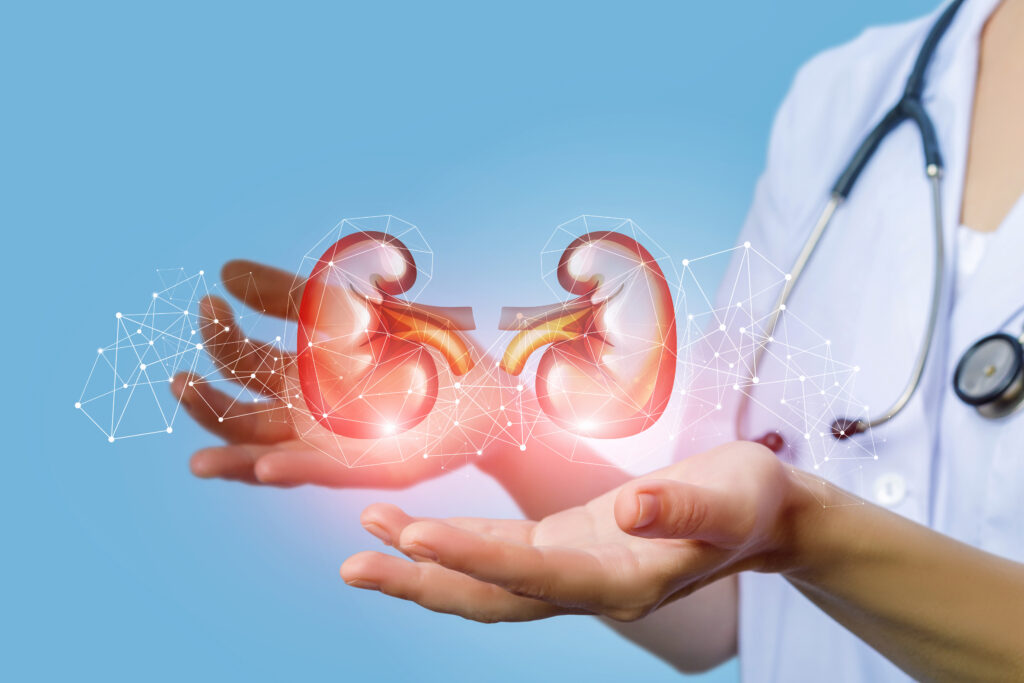 Winning Solution: Bioengineered Therapies for Patients with Kidney Failure
Addressing critical gaps in stem cell manufacturing, tissue development, and biofabrication methods for bioengineered kidneys
KidneyX Competition:
Artificial Kidney Prize, Phase 2: Track Two
About the Solution
While it has been nearly 70 years since the first kidney transplant and first reports of successful dialysis to treat kidney failure, these clinical practices remain the only two standard-of-care options for patients living with kidney failure (KF). Renal transplantation remains the best possible clinical option for treating KF, but despite best efforts to address it, a persistent, large gap remains between the number of organs available and the number of patients who need them.  Recent technical advances in the field of stem cell biology, particularly the ability to generate complex 3D mini-tissues known as organoids from pluripotent stem cells bring us much closer to the reality of biomanufacturing tissues that could be used to treat KF patients.  There are, however, gaps in our basic knowledge that must first be addressed for development of a functional bioengineered kidney for therapeutic translation, including how to: (a) further organize differentiated stem cells into more sophisticated arrangements with tissue-like architecture; (b) build with scale and biomanufacturing solutions in mind; and (c) promote tissue vascularization and maturation in vitro.
In the current proposal we describe our ongoing efforts and report supporting data in each of those three critical knowledge gaps, as well as a series of forward-looking experiments which will help us advance each, bringing the field, and patients, much closer to the reality of biomanufactured tissues as a clinical option. Aim 1 of this proposal is focused on a series of experiments which will elicit the essential combinations and spatial patterns to support more extensive kidney tissue development than has been previously reported. In Aim 2, we will develop methods to significantly increase the size, scale and complexity of those tissues, including the integration of biofabrication techniques which will ultimately enable the production of clinical-size tissues. Finally, in Aim 3, we will assess the behavior and performance of the bioengineered kidney tissues, in vivo.  In support of our mission to develop therapies for patients living with kidney failure, Trestle Bio has established foundational efforts in kidney stem cell biology and 3D biofabrication, which includes an exclusive license to develop and commercialize technology developed in the laboratories of academic collaborators at the Wyss Institute at Harvard University.  Through efforts like the one described here, we will continue to work closely with this group and others to bring solutions to the kidney disease patients who need them.
About the Winner
Ben is a vascular biologist, tissue engineer and regenerative medicine scientist by training.  He has spent the past 10+ years in industry leading successful R&D teams and business development efforts focused on developing complex 3D human tissue systems. Prior to co-founding Trestle, Ben served as VP of Research & Preclinical Development at Organovo, where he oversaw preclinical translational research.  In addition to internal R&D programs, he was responsible for management and oversight of Organovo's external academic collaborations and helped guide and develop Organovo's IP estate.  Prior to leading preclinical translation efforts, Ben held various R&D leadership and Business Development roles at Organovo.  He led initial R&D efforts focused on use of 3D bioprinting for creation of in vitro tissue models for use in drug discovery, ADME/Tox, and disease modeling.  Ben is an author on more than 20 scientific articles and book chapters, and a named inventor on more than 10 patents.
Ben received his B.S. in Zoology from the University of Washington, a Ph.D. from the University of Arizona in Physiological Sciences, and conducted postdoctoral training at the Yale School of Medicine in the laboratory of Jordan Pober M.D., Ph.D.  Ben is also a board certified cardiovascular perfusionist.