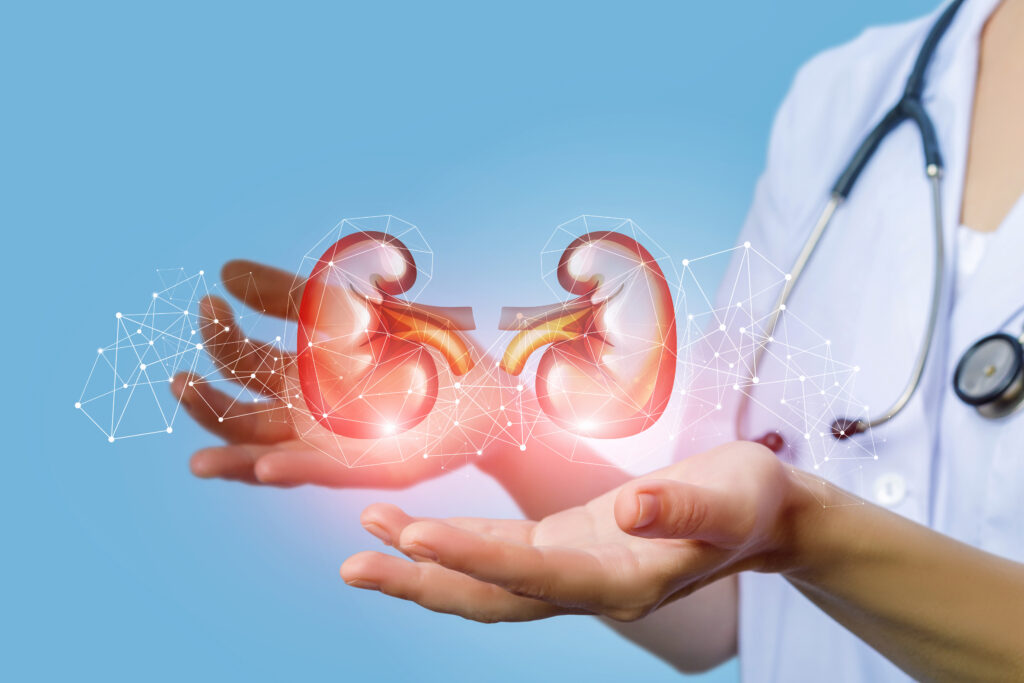 About the Solution
Dozens of COVID-19 vaccines are currently in clinical trials (1), and planning is underway for distribution of successful vaccine candidates at the national, state, and local levels (2). However, effective distribution plans targeted to specific populations, such as those who suffer from end-stage kidney disease and those who care for them, have not been uniformly outlined. Also, it is unclear if patients and healthcare providers are willing to be vaccinated. A recent Gallup poll reported that 58% of Americans were willing to be vaccinated, up from 50% in September (3). We propose to create an effective supply chain and distribution plan that accounts for vaccine requirements, efficiently delivers to rural and urban areas, and fosters enthusiasm for vaccination in the current stressful environment (4).
Our hub-and-spoke delivery model will consist of a central distribution location able to achieve the temperatures required for long-term storage and mobile units retrofitted with needed cold-storage capabilities for distribution. Each mobile unit would deliver regional supply to multiple local dialysis organizations within required time periods. With additional design modifications, mobile units would also have the capacity to deliver tokens of appreciation to staff and patients to generate enthusiasm to participate in the campaign, spreading good cheer for staff and patients who might look forward to the units' arrival at their slated location. In summary, we plan to effectively deliver COVID-19 vaccines to staff and patients at multiple dialysis organizations' facilities and encourage participation with our intervention. (5,6)
Two cold storage units rated to -4°C to retrofit vehicles
Construction materials to retrofit for freezer capability
Items to encourage patient and staff participation in immunization campaign (for example, visors and masks with local logos)
Staff salary to deliver vaccine to other dialysis organizations
Mobile units
Drivers for mobile units
This innovative solution could be scaled and implemented in other environments, such as nursing facilities, primary care clinics in multiple locations including rural, urban, and suburban locales, homeless shelters, and home settings. This vaccine delivery system could access underserved populations equally and could address issues around health equity, as the vaccine would be delivered to other facilities.
Johns Hopkins University Coronavirus Resource Center. COVID-19 dashboard by the Center for Systems Science and Engineering (CSSE) at Johns Hopkins University. 2020 (https://coronavirus.jhu.edu/map.html).
https://www.hhs.gov/sites/default/files/national-governors-association-questions-on-vaccine-distribution-planning.pdf (accessed November 15, 2020)
https://news.gallup.com/poll/325208/americans-willing-covid-vaccine.aspx (accessed December 1, 2020)
https://www.ncbi.nlm.nih.gov/pmc/articles/PMC7593839/ (accessed Nov 15 2020)
https://www.mhanational.org/create-joy-and-satisfaction (accessed Nov 30 2020)
https://huddle.uwmedicine.org/news/taking-moment-fun (accessed Nov 30, 2020)
About the Winner
Northwest Kidney Centers is a nonprofit, community-based organization with a mission to promote the optimal health, quality of life and independence of people with kidney disease through patient care, education, and research. Founded in Seattle in 1962, Northwest Kidney Centers is the world's first dialysis organization.