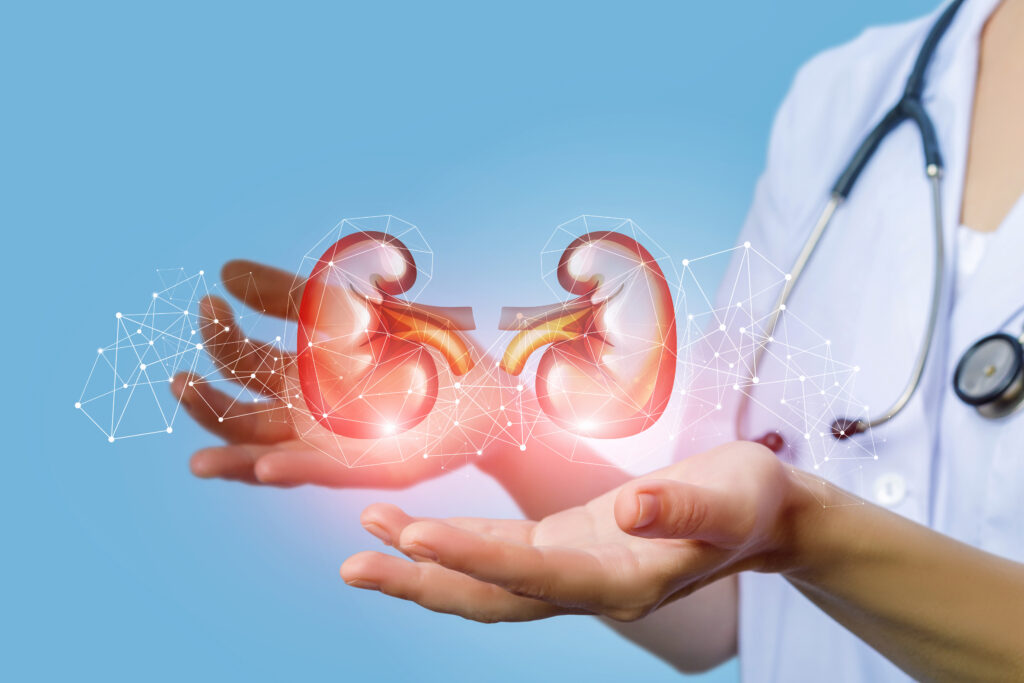 About the Solution
The goal is to identify SARS-CoV-2 virus particles on worn face masks. Face masks are required to be worn by all in-center hemodialysis (HD) patients and staff when in the dialysis clinic. Worn face masks will be collected and analyzed for SARS-CoV-2 using reverse transcription-polymerase chain reaction (RT-PCR).
It has been shown that mask sampling is feasible for identifying patients with common cold symptoms (1). A recent study in five COVID-19 patients discovered that millions of SARS-CoV-2 particles are exhaled per hour (2). The highest positivity rate was observed for exhaled breath compared to other techniques, such as air and surface sampling. The volunteers in the study by Ma et al. (2) were asked to breathe for five minutes only, much less than the 200 to 250 minutes HD patients stay in a dialysis facility (this is the time between entry to and exit from the dialysis clinic).
Masks from HD patients and staff would be tested two to three times per week over one to two months using our proposed solution. We may be able to identify COVID-19 infected individuals early, considering that exhaled virus load increases over time right after exposure (3). Repeated testing and longer duration of mask wearing will reduce the risk of false-negative results. As all HD patients and clinic staff undergo a systematic screening process prior to clinic admittance, our solution will allow identification of asymptomatic individuals who do not show signs and symptoms of COVID-19 but may transmit the disease through a fine aerosol route.
We envision transporting worn face masks to the Renal Research Institute (RRI) Laboratory, followed by extraction of virus particles and detection by RT-PCR as part of a clinical research study. Efficiency will be increased by implementing mask pool testing if the infection incidence is below 30%, as recently demonstrated by our group (4).
We will implement and test our solution under an IRB-approved clinical research protocol. To that end, we will enroll 40 patients and staff in dialysis clinics. Patients and staff will receive fresh face masks upon entry and will be required to wear them throughout their stay in the dialysis clinic. When exiting, patients and staff will give the used masks to research staff and receive a new mask. Used masks will be placed in individual bags for transport to the RRI laboratory. A lab technician will use phosphate buffered saline (PBS) to elute SARS-CoV-2, if present. The collected PBS will then be combined into pools, and pools will undergo RT-PCR testing for SARS-CoV-2 using the TaqPath RT-PCR COVID-19 Combo Kit.
The duration of the study will be three months. Each patient and staff will be followed for one to two months. If successful, our mask pool-testing solution can be easily adapted by most settings where masks are mandatory for an extended period (at least 2-3 hours), independent of geography. In addition to dialysis clinics and hospitals, other settings, even beyond health care, could be considered. The main challenge is the development of setting-specific workflows that optimize collection of used masks and segregating them in pools; the optimal pool size is determined by disease prevalence, test sensitivity, and specificity (4).
References:
Huynh KN, Oliver BG, Stelzer S, Rawlinson WD, Tovey ER. A new method for sampling and detection of exhaled respiratory virus aerosols. Clin Infect Dis 2008;46:93-5.
Ma J, Qi X, Chen H, Li X, Zhang Z, Wang H, et al. Exhaled breath is a significant source of SARS- CoV-2 emission. medRxiv 2020:2020.05.31.20115154.
He X, Lau EHY, Wu P, Deng X, Wang J, Hao X, et al. Temporal dynamics in viral shedding and transmissibility of COVID-19. Nat Med 2020;26:672-5.
Cherif A, Grobe N, Wang X, Kotanko P. Simulation of Pool Testing to Identify Patients With Coronavirus Disease 2019 Under Conditions of Limited Test Availability. JAMA Netw Open 2020;3:e2013075.
Progress Update:
Following the submission period, the RRI team provided the following updates to their solution:
Preliminary data: Preliminary data from the RRI are promising. All 16 masks from COVID-19 negative patients were SARS-CoV-2 negative. Masks from 5 of 6 COVID-19 patients tested positive for SARS-CoV-2.
Cost savings: In practice, we will pool 5 to 8 eluted virus solutions together if the prevalence is lower than 5%. This will save roughly 57% to 79% of cost compared with single tests (4). If a positive pool is detected, each eluted virus solution from that pool can be re-tested individually to identify the patient.
About the Winner
From its inception in 1997, the Renal Research Institute (RRI) has been an innovation hub, embracing diversity and an interdisciplinary approach to research. Our team includes some of the brightest minds from around the world, who, along with their disciplinary expertise, bring a deep understanding of global issues and challenges.